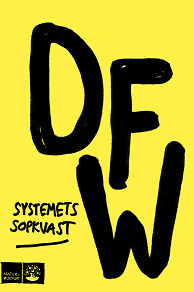 Isbn:
978-91-2713-880-3
Publisher:
Natur & Kultur
Category:
Novels
Accessible since:
October 2013
---
Systemets sopkvast
Lenore Beadsman har en tilltrasslad tillvaro med en försvunnen Wittgensteinstuderande farfarsmor, en dominant far som gör experiment med barnmat, en pratsam papegoja som blir frälst, en alltmer påträngande psykoterapeut – och dessutom sitter hon i en telefonväxel som har blivit vansinnig – samtidigt som hon försöker hålla liv i en svårhanterlig kärlekshistoria. Allt skildrat i halsbrytande vändningar och ett rasande tempo.
Systemets sopkvastär David Foster Wallaces debutroman från 1987 och hyllades då som en av 80-talets stora generationsromaner. Boken utgavs på svenska 1989 och beskrevs som "en skarpsinnig kartläggning av vår tids ångest …" Denna nya utgåva har försetts med en introduktion till David Foster Wallaces författarskap av Malte Persson.
David Foster Wallace (1962–2008) föddes i Ithaka, New York och växte upp i Illinois. Han studerade engelska och filosofi vid Amherst College och innehade en professur i kreativt skrivande vid Pomona College i Claremont, Kalifornien. Utöver ett flertal romaner och essäsamlingar skrev han noveller för tidskrifter som The Paris Review, Harper's Magazine, The New Yorker och Science.
Read sample
(Download)
---