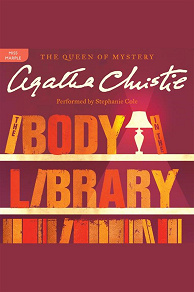 Isbn:
978-00-6223-228-1
Publisher:
HarperCollins
Category:
Novels
Crime & Mystery
Accessible since:
February 2020
Narrator:
Stephanie Cole
Length: 5 hours 22 minutes
---
The Body in the Library
It's seven in the morning. The Bantrys wake to findthe body of a young woman in their library.She is wearing an evening dress and heavy makeup,which is now smeared across her cheeks. But whois she? How did she get there? And what is theconnection with another dead girl, whose charredremains are later discovered in an abandonedquarry? The respectable Bantrys invite Miss Marpleto solve the mystery . . . before tongues start to wag.
Listen to sample
---