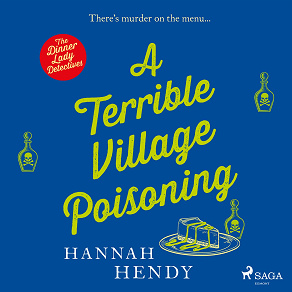 Isbn:
978-87-2850-123-8
Publisher:
Saga Egmont
Category:
Crime & Mystery
Accessible since:
March 2023
Narrator:
Jenny Funnell
Length: 8 hours 2 minutes
---
A Terrible Village Poisoning
The local mayor has a dinner date with death...

With school out for the summer, dinner ladies Margery and Clementine Butcher-Baker are off on holiday to the picturesque village of St-Martins-on-the-Water. But on their first night, their meal at the hotel ends in disaster, when the local mayor is found dead on the restaurant floor, supposedly poisoned by his dinner.

The village has a history of poisoning, and the locals are convinced the Poisoner is back. Immediately suspicion turns on Margery and – in particular – Clementine. But why? As more villagers grow sick, the question is: has the Poisoner returned or is this sinister turn the work of a menacing new copycat?

Margery and Clementine are on the case... to clear their name, to catch the killer, and all in time to celebrate Mrs Smith at her hen party.

A charming cosy mystery that will make you laugh out loud, perfect for fans of Julia Chapman, Fiona Leitch and Richard Osman.





Listen to sample
---